M a r k e t N e w s
Turkana County in Kenya plans the construction of 1,200 Housing Units
Posted on : Thursday , 27th April 2023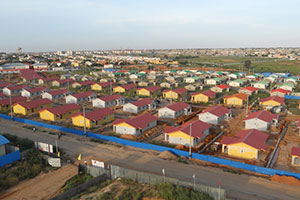 Turkana County is now planning the construction of 1,200 Housing units. The county government will fund the project, which will benefit all six constituencies. According to the Kenya Urban Support Programme's National Project Coordination Team, led by Eng. Benjamin Njega.
Njega was delighted that Turkana Central has access to 20 acres of land from the Lands Department to initiate the project. Additionally, he stated that in order to speed up the mapping of the county for the housing project, he would send his team of urban planners to work with the county to develop plans and designs for the project.
In order to make sure that Lodwar municipality functions entirely as a municipality at the same time, Peter Akono, a county executive committee member for lands, physical planning, housing, and urban area management, said that the municipality will have a substantive municipality manager this week.
Akono praised the founding of the Lodwar Municipality in 2018. He also acknowledged the advancements made thanks to the KUSP. To provide technical support to the Lodwar Municipality, the team recently visited Turkana County.
For potential corrective actions, the NPCT also conducted follow-ups. This was done following a review of the audit's main conclusions, which were made between June and August of 2022. Njega, the team's head, said that in order for Lodwar Municipality to take advantage of KUSP II, which will start in July 2024, it must satisfy all 10 requirements.
It is stated that KUSP I will conclude on July 31, 2023.Given that Kakuma and Garissa municipalities are intended for housing refugee communities, Eng. Njega claimed that they will be among the first 59 to benefit from the USD 200 million for KUSP II.
The team examined and evaluated the project to construct parking lots later in the day. The project include installing cabros at numerous locations throughout the area.
Source : https://constructionreviewonline.com