M a r k e t N e w s
Tanzania has begun construction on Phase 4 of the SGR, which will connect Tabora and Isaka.
Posted on : Tuesday , 31st January 2023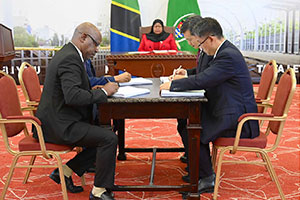 The Tabora-Isaka leg of the Standard Gauge Railway's foundation stone was placed on January 18, 2023 by Tanzania's Vice President, Dr. Philip Isdor Mpango (SGR).
The portion is 165 km long (130 km + 35 km of intersections), and it is situated in the Shinyanga area.
The parts are being built by the Turkish firm Yapi Merkezi, and they should be finished in March 2026 after a 42-month construction period.
Vice President Mpango emphasised during the ceremony that the government wants to make Tanzania the main hub for travel into and out of East and South Africa while also reducing travel time and costs.
Additionally, he underlined the necessity for locomotives, freight waggons, and passengers after the project finished for the railway. For a total investment of TZS 1.2 trillion, the Government has entered into contracts to purchase 89 passenger cars, 19 electric train heads, and 10 contemporary train sets.
The SGR project has additionally given citizens employment possibilities, contracts, and bids for Tanzanians.
The Vice President stated, "According to the current statistics, the project has so far employed more than 20,000 direct workers and paid a salary of USD 102 million. Additionally, the project was implemented by tenders worth USD 820 million, and the Government has also collected taxes totaling USD 450 million.
Prof. Makame Mbarawa, Minister of Construction and Transport, spoke about how the SGR will significantly lower transportation costs for Tanzania and the rest of East Africa.
Prof. Mbarawa also emphasised the railway's significant contribution to other infrastructures, such as ports and highways, by lowering the buildup of loads in the port and by minimising damage to the roads and maintaining them on a regular basis.
While this was going on, Ndugu Masanja Kadogosa, the director general of the state-owned Tanzania Railways Corporation (TRC), provided an update on the first phase of the modern railway's construction. He noted that the first section, from Dar es Salaam to Morogoro, had reached 97.77% completion, the second section, from Morogoro to Makutupora, had reached 91.79% completion, and the third section, from Makutupor
Tanzania's government is now building a Standard Gauge Railway to replace the outdated, ineffective meter-gauge railway system, which would expand the nation's rail network.
The SGR will connect Tanzania to its neighbours Rwanda, Burundi, and the Democratic Republic of the Congo from the port of Dar es Salaam on the Indian Ocean to the port of Mwanza on the shore of Lake Victoria in northern Tanzania (DRC). The SGR is a network of around 2,000 km that was created over the course of six phases.
Source : www.tanzaniainvest.com