M a r k e t N e w s
Tanzania's rating improves as a result of the government's efforts to improve the investment climate.
Posted on : Wednesday , 26th October 2022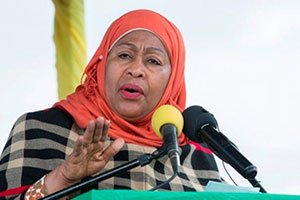 Earlier in October, Moody's Investors Service upgraded the Government of Tanzania's outlook from stable to positive and reaffirmed the B2 long-term issuer ratings in both foreign and domestic currencies.
According to the rating agency's statement, Tanzania's political risks have decreased as a result of President Samia Suluhu Hassan's administration's new strategy for promoting economic growth and engagement with the international community. As a result, the outlook has changed, the rating agency says.
The statement claims that the government's initiatives to enhance the business and investment climate and draw FDI, particularly in the mining and hydrocarbon industries, provide the possibility of greater potential growth and improved global competitiveness.
Furthermore, Tanzania's reengagement with the IMF has the potential to boost government income collection capabilities and open up more development partner concessional finance, supporting debt affordability and increasing social expenditure.
As a result, Tanzania's capacity to deal with the effects of the global shock following Russia's invasion of Ukraine is supported by such signals that decreased political risk may benefit the nation's economic and financial environment.
Although there have been pressures on prices globally, Moody's anticipates Tanzania's moderate debt load to stay constant and below the B2 median.
Due to continuous policy and regulatory uncertainty during the late President John Magufuli's government, FDI inflows have been limited recently, with policy uncertainty having an influence on investments, notably in the mining industry.
President Samia Suluhu Hassan actively courted foreign investors after taking office in 2021, and since then, investor attitude towards Tanzania has improved. This includes many investments in the mining industry and revived interest in long-delayed energy projects.
The first measures toward enhancing the business and investment climate were easing restrictions on international work permits, expediting VAT refunds, and introducing laws to aid local enterprises.
Additionally, efforts are still being made to enhance the regulatory environment, lower non-tariff obstacles, and enhance the calibre of national statistics, all of which have the potential to generate sustained gains in potential growth.
President Hassan has traveled often domestically and internationally since taking office in March 2021 in an effort to strengthen relations with other countries and draw in foreign investment.
In reaction to the current commodities price shock, efforts to reengage with the IMF have been effective in getting money to support the government's pandemic response and introduce price subsidies to reduce inflationary pressures.
The new administration has also taken steps to strengthen ties with international development organizations by easing risks to government liquidity and funding costs, expanding civic space, removing some restrictions on the media, and supporting political opposition. These actions have also made it possible for additional development partners to offer concessionary funding.
Source : www.tanzaniainvest.com