M a r k e t N e w s
According to the Maritime Authority, the Free Trade Zone would offer effective services and attract investors
Posted on : Wednesday , 24th August 2022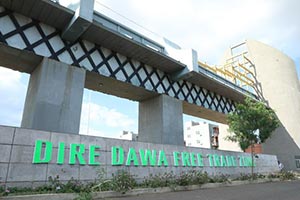 According to the Ethiopian Maritime Authority, modern and appropriate services would be offered in the Dire Dawa Free Commerce Zone to enhance import-export trade and attract investment.
Ethiopia's first free trade zone, which was recently established, is anticipated to speed up industrialisation and the economy while cutting costs and lengthening the time required for logistical operations.
Ewnetu Taye, the authority's deputy director for logistics transformation, told ENA that the free trade zone's location will significantly cut down on the time and expense now associated with logistics, increase import-export commerce, and draw in a lot of partners and investments.
'We hope the free trade zone now being established will have many partners since a free trade zone demands enormous investment, advanced expertise, enormous cash, and foreign currency.'
According to him, the Dire Dawa Free Trade Zone would offer foreign money, simple customs, and enhanced logistical services. This will attract and encourage FDI from abroad.
He said that investments were anticipated from current industrial park manufacturers, importers, and service providers, particularly logistics service provider firms.
The deputy director advised investors to begin their firm by importing items before converting it to manufacturing with added value and exporting to help create foreign currency.
Due to its closeness to ports, market potential, high cargo gravity, adaptability for multimodal transport, and logistical activities, Dire Dawa was chosen to host the first free trade zone.
The Djibouti and Berbera ports are closest to Dire Dawa. Therefore, moving products quickly and easily between ports and the zone is possible. Through asphalt roads, trains, and aircraft, the city is also connected to the capital city and nearby ports. This results in better logistics.
In addition, when the expressway from Awash to Dire Dawa is finished, it will connect to the already-existing expressways to Addis Abeba and Djibouti.
He said that Ethiopian Airlines will have the chance to deliver commodities from the free trade zone to other African nations as a result of the creation of the zone.
The vice director stated, "Considering this market, I hope Ethiopian Airlines would make a prompt answer.
According to Ewnetu, the free trade zone would help Ethiopia better integrate into a world that is changing quickly.
'Ethiopia's trade volume and revenue with its neighbours are increasing, and regional integration has made growth in the last decade. This free trade zone will help regional integration even further.'
He added that the creation of free trade zones in Ethiopia is a component of the National Logistics Strategy and would alter the import-export market and logistics system.
Source : www.ena.et