M a r k e t N e w s
A second container terminal's phase two construction is finished in the port of Mombasa, Kenya
Posted on : Wednesday , 22nd June 2022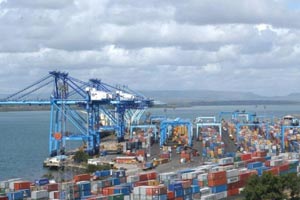 According to Kenya Ports Authority, the second phase of the Sh32 billion Port of Mombasa's second container terminal, which began in September 2018, has been finished (KPA).
The port authorities revealed the information after confirming that the project had been completed by the Japanese contractor, Tokyo Construction Company Limited. Representatives from Tokyo Construction Company met with KPA officials and checked the project's completion, led by Hironari Sahara, Civil Construction Division Manager, and Shuichi Aikawa, General Manager International Division.
KPA was represented at the meeting by Sudi Mwasinago, General Manager Cargo Operations, and Abdullahi Samatar, General Manager Infrastructure Development, which was held at the Kipevu Headquarters.
The Authority and competent government agencies will inspect the facility, which is located on 100 acres near Kilindini Harbour, and the transfer ceremony for the facility, which maritime players have dubbed a game-changer, will take place soon, according to KPA.
The new facility will increase the port's yearly capacity by 450,000 containers, bringing the total to 2.1 million.

Through a government-to-government credit programme run by the Japan International Cooperation Agency, the Japanese government provided funding for the project (JICA). After it is finished, the Mombasa Port terminal will have three berths overall, measuring 230, 320, and 350 metres in length. The largest berths will be able to accommodate post-Panamax vessels of 60,000 deadweight tonnes and Panamax container ships of 20,000 deadweight tonnes.
The first phase of the Mombasa Port's second container terminal, which cost Sh26 billion and required the reclamation of roughly 50 acres of sea area to offer 550,000 Twenty-Foot Equivalent Unit (TEU) capacity, was completed in 2016.
Due to multibillion-dollar infrastructural and technical expenditures, Mombasa Port, which acts as a gateway for landlocked countries like Uganda, Rwanda, and Burundi, has lately undergone major changes. The expansion project is a part of the port's plans to transform it into a regional logistics hub and involves the construction of Phase Two of the second container terminal and the Sh40 billion Kipevu Oil Terminal (KOT).
Source : constructionreviewonline.com