M a r k e t N e w s
Opportunities for a New Horizon of Cooperation between Ethiopia and Somalia
Posted on : Wednesday , 25th May 2022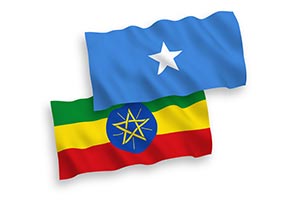 The Somali parliament reelected Hassan Sheikh Mohammed to replace Mohammed Abdullahi Farmaaajo a few days ago in a hotly contested three-round election. The election, which has been postponed for over a year, is expected to usher in a new era in Somalia's diplomatic and comprehensive ties with its neighbours, particularly Ethiopia.
Prime Minister Abiy Ahmed emphasised his interest in working with the new president of Somalia on current and bilateral problems in his congratulations letter to the new president of Somalia, who was elected for the second time. 'Thank you so much, your Excellency Abiy Ahmed Ali,' President Hassan Sheik Mohamud said in response to Prime Minister Abiy Ahmed's congratulations letter. I really anticipate working with you to further our bilateral and diplomatic ties.'
The Ethiopian Ambassador to Somalia, Abdulfatah Abdullahi Hassan, also met with Somalia's President, Hassan Sheikh Mohamud. Ambassador Abdulfatah gave President Sahle-Work Zewde's and Prime Minister Abiy Ahmed's goodwill greetings to the incoming President at the ceremony. The two parties also agreed that Ethiopia and Somalia's cordial diplomatic and people-to-people ties should be strengthened.
Furthermore, the Ethiopian Ministry of Foreign Affairs issued a statement expressing its willingness to work with the new president of Somalia, saying, "The Ministry believes that the election demonstrates the people of Somalia's confidence in you and is a step forward in building a democratic process in the country."
For more than two decades, Somalia has been without an official government. Ethiopia is one of the nations that has provided essential assistance to Somalia since the development of a formal government structure, notably in terms of boosting the country's peace and stability. Ethiopian armed troops have lost their blood to ensure peace and stability in Somalia since their positive involvement in the founding of the Transition Government of Somalia in 2016. Ethiopia and Somalia share a number of similarities. A larger shared boundary connects the two countries. The two countries have a great trade and investment potential that has to be realised for the benefit of their respective peoples.
Ethiopia and Somalia can collaborate on cross-border trade because both nations have comparative advantages. Both nations can make significant contributions to economic integration in the Horn of Africa by developing integrated land and air transport networks, which will be critical in guaranteeing peace and stability in the area.
In 2018, Somalia and Ethiopia proposed a cooperative investment in four seaports to attract international investment to their respective nations, the latest move in a tug-of-war over port access along with one of the world's most vital waterways. Although Ethiopia currently owns 19 percent of the Berbera Port, it is also interested in developing other Somali ports such as Mogadishu, Bosasso, and Kismayou.
Ethiopia's cooperation with Somalia's new government is based on shared interests in development. The challenges that both countries face, however, necessitate strong, comprehensive cooperation in areas such as security and threats from Al-Shabab, cross-border arms trafficking, illegal trade and contraband, climate change, and the prevention of cross-border epidemics and health hazards.
Dina Mufti, the Foreign Affairs Spokesperson, told local media this week that "regional peace and security has been one of the most important agenda items." We have been battling Al-Shabab together and will continue to do so. We may also collaborate on energy supply, infrastructure networking (both air and land), and improving commercial relations, as the two nations' economic relations are already strong. We are also very interested in improving Ethiopian-Somali social connections.'
Ethiopia and Somalia can exchange hydroelectric electricity and participate in capacity-building projects aimed at improving higher education and technology transfer in the fields of ICT and agriculture. Droughts caused by climate change present a good chance to promote food security initiatives concentrating on livestock growth, irrigation in semi-arid parts of both nations, and diversification of agricultural operations via the use of local resources. Trade and economic cooperation between Somalia and the United States benefits both nations and will help to create peace and stability in the otherwise dangerous Horn of Africa area.
Promoting bilateral cultural connections between Ethiopia and Somalia through people-to-people contacts, as well as Ethiopia's assistance in the development of administrative and development institutions, will improve the two nations' relationship. Institutes of higher education, public and private colleges in the nation can continue to give scholarships to Somali students in the context of cross-cultural contacts, according to agreements with the new administration.
Experts advise the leaders of the two countries to improve their strategies for maximising these potentials for the benefit of their people. Professor Sonkor Geyre, the Chairperson of Somalia's Institute for Federalism and Security Analysis (IFSA), stated that the newly elected president of Somalia is expected to strengthen the long-standing relationship and cooperation between Somalia and Ethiopia for the benefit of the two countries' people and regional peace efforts.
According to the professor, Ethiopia is critical to Somalia in a variety of ways, including security, trade, and development. The two nations' relationship is lengthy and smooth, and it is still progressing toward a higher level with a shared vision. In this sense, the researcher believes that Somalia's newly elected president has the ability and expertise to strengthen the connection. The people of Ethiopia and Somalia can live better lives in their fight against poverty and underdevelopment provided both nations' governments make reasonable promises.
Source : www.ena.et