M a r k e t N e w s
Tanzania: As Dar Port Gets Sh800 Billion for Expansion
Posted on : Tuesday , 16th September 2014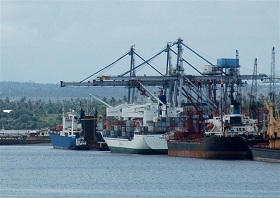 A MEMORANDUM of Understanding (MoU) between Tanzania Ports Authority (TPA), Ministry of Transport and World Bank, UK's Department for International Development (DFID) with Trade Mark East Africa has been signed for a 500 million US dollars (over 800bn/-) financing for Dar es Salaam port expansion and modernisation.
The MoU signing ceremony was witnessed by Transport Minister, Dr Harrison Mwakyembe and visiting World Bank Managing Director and Chief Operating Officer, Sri Mulyani Indrawati, who said the money will combine a soft loan and grant.
"This financing will help improve performance at this port and enable the Tanzanian economy be connected to the world," said Ms Indrawati. She said the funding is phase one of Dar port's expansion plan which will also include over 700 million US dollars in phase two.
"I also hope that authorities will also invite more private sector investment in port development," the World Bank chief noted, pointing out that the bank is also supporting institutional transformation at TPA.
World Bank Country Director for Tanzania, Burundi and Uganda, Phillip Dongier said the money will immediately be released by the bank to ensure that work of expanding the country's prime port starts immediately.
"I know that there is already money at Trade Mark east Africa which will be made available immediately while we also speed up the process of releasing the money," Mr Dongier noted.
Speaking at the same function, Dr Mwakyembe said the government is committed to improve Dar es Salaam port and the whole transport network to speed up cargo transportation to hinterland countries.
"Cargo being handled by the port has increased from nine million metric tons a year ago to 14 million metric tons at present," Dr Mwakyembe noted while clarifying that the funding will not include construction of Berths 13 and 14 which was awarded to Impala Africa earlier this year.
Dr Mwakyembe was responding to a question of what is happening at the port following the re-advertising of a tender for construction of Berths 13 and 14 by TPA while the same was already awarded to Impala Africa.
"This funding does not include Berths 13 and 14," he said. The World Bank MD and COO who arrived in the country last Wednesday leaves the country tomorrow.
Source : allafrica.com