M a r k e t N e w s
Increasing capacity and improving efficiency at East African Ports
Posted on : Tuesday , 9th September 2014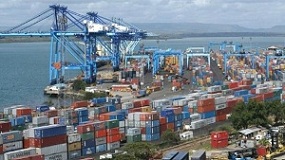 Growing volumes of cargo at all African ports has forced port authorities and operators to increase capacity, analyse operations to increase efficiency, and employ measures to allow bigger ships into their ports. The East Africa Region has various projects underway. The new Lamu Port in Kenya costing $5.3 billion (Reuters.com) and the Bagamoyo port in Tanzania costing $11 billion (The East African) are examples of countries preparing for the ever growing port capacity needs.
Reconfiguring port layout, and increasing berths at existing ports and conducting dredging more often, have been other strategies that numerous ports have employed to meet this need. Port of Maputo will be undertaking dredging to increase its channel depth from 11 meters to 14 meters this year, to allow larger vessels entry (Dredgingtoday.com). Tanzania will invest $523 million for new berths 13 and 14 to more than double its container capacity at Dar es Salaam Port (Tradeinvestafrica.com).
Off the back of our successful 3rd Annual Dredging and Port Expansion Africa 2014 conference, Infrastructure IQ is pleased to announce the 1st Annual Port Expansion East Africa conference docking at Dar es Salaam in Tanzania.
Delegates at this conference will hear from Tim Vancampen, CEO, Madagascar International Terminal Services Ltd, Franklin Mziray, Secretary General, Ports Management Association of East and Southern Africa, as well as Daniel Machemba, Executive Director- Secretary, Tanzania Chamber of Commerce, Industry and Agriculture.
Source : constructionreviewonline.com