M a r k e t N e w s
Hyatt Regency Arusha, Tanzania to be constructed at US$60m
Posted on : Saturday , 6th September 2014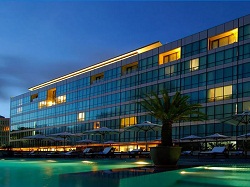 Hyatt Hotels Corporation has entered into a partnership with ASB (Tanzania) Limited that will see the later construct a new 300-room five star hotel. The new hotel will be called Hyatt Regency Hotel Arusha. The building permit was awarded to ASB on May 7th this year.

Located at the heart of Arusha, the 300-room five-star hotel will be in close proximity to some of Africa's most famous natural landscapes and national parks, including Tarangire National Park and Mount Kilimanjaro.
The construction of the first and second phase of the five star hotel has been estimated to cost a total of US$60m. The Hyatt Regency Hotel Arusha building is expected to be ready by 2016. It will be constructed on a piece of land where Hotel-77 stands. The hotel is owned and managed by ASB (T) L in Arusha, Tanzania.
ASB (T) Ltd is owned by Albwardly Investments of the United Arab Emirates (UAE), Dubai.
The new Hyatt Regency Hotel Arusha project in Tanzania will bring the total number of Hyatt-branded hotels in Africa or under development in Africa to 11, with properties in four corners of the continent. Hyatt Regency Arusha will join Hyatt Regency Dar es Salaam, The Kilimanjaro, which has been in operation since 2011
Tanzania is a country well known for its touristic sites. The recent rise in the number of tourists frequently the country has made the demand for world class hotels rise in the recent years. Hyatt is renown worldwide for providing authentic hospitality to their guests and the new hotel to be constructed will deliver an exceptional hospitality experience to guests visiting Tanzania.
Source : constructionreviewonline.com