M a r k e t N e w s
Tetra Tech signs US$25m contract for Phase 1 of Konza City
Posted on : Saturday , 6th September 2014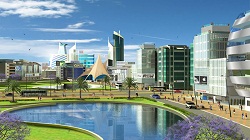 Tetra Tech Inc will oversee development of phase 1 of Konza city following the signing of a contract between them and Konza Technopolis Development Authority (KoTDA).
Colorado-based Tetra Tech was selected as the Master Delivery Partner 2 (MDP2) in the Kenya's smart city construction project. Other partners in the MDP2 consortium are 11 firms from Netherlands, UAE, US, Germany and five firms hail from Kenya.
According to the Vice President at Tetra Tech Inc Mr. Michael Rothhammer, the company is keen to using its experience in technology to develop infrastructure for the city, which "will drive Kenya's ambitious economic growth projections."
The consortium is expected to develop a masterplan-level design of the city. They will also identify and structure financing for sustainable options to the city, as well as deliver a project-to-scale construction management.
Konza city is expected to drive Kenya's trade and investments, in addition to creating employment for many people in Kenya (20, 000 by 2015). It will entail construction of light assembly manufacturing facilities, call and data centers, BPO and software development facilities, and disaster recovery centers. Located along the Nairobi-Mombasa highway, 60km south-east of Nairobi, Konza city project is expected to cost US$14.5bn.
Already, Kenya Power has completed the provision of power to the site to enhance construction of the phase 1 of Konza city. The power would be used to pump water from boreholes to the site to help develop initial infrastructure, greening the city, construction of verticals. A dam, Thwake dam, is being set up as a permanent water solution for the city and is expected to be completed in 2018.
Konza city is a BPO project marketed by the Kenyan government through ICT Board, a board tasked with Information Communication Technology matters in the country.
Source : constructionreviewonline.com