M a r k e t N e w s
Outer Ring Road in Kenya to be expanded into a dual carriage at US$82m
Posted on : Wednesday , 3rd September 2014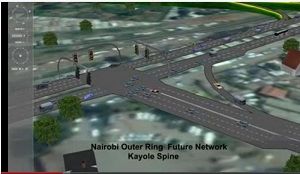 Sino Hydro Tianjin Engineering will undertake expanding of the Outer Ring Road in Nairobi, Kenya at a cost of US$82m. This is after beating other eight firms that submitted bids in the tendering process.
The 13 km stretch that feeds the Thika superhighway on the one end will now be expanded into a two-lane dual carriage. Instead of roundabouts, interchanges will now be used. The expansion is expected to start from October this year.
The expansion will see improved connection for two million residents using the Outer Ring Road, Kenya. Light industries will also benefit from the connection. It is expected that the expansion will improve the feed to Jomo Kenyatta International Airport. The civil works are expected to be carried out within 36 months and the road could take 4 years to complete.
The project is being funded by the African Development Bank (AfDB), which said it still have the right to reserve the awarding of the project if the decision was contested and grounds ascertained. African Development Bank said any complainant should request for explanation from the Kenya Urban Roads Authority, who are the executing agency.
Already, AfDB has approved a US$115.9Mm loan and a US$5m grant for the Outer Ring road construction. The other financier is the Kenyan government, which is contributing US$11m.
Part of civil works includes construction of 250 market stalls with sanitary facilities. A children's traffic safety park and three HIV/AIDs and related illnesses wellness centres will also be set up. 4500 trees will also be planted along the corridor. An artisan training program will also be launched under the project, to target 500 youths from informal settlement, to equip them with skills for employment.
Sino Hydro built some 14km stretch along Thika Superhighway in Kenya.
Source : constructionreviewonline.com