M a r k e t N e w s
New state-of-the-art hospitals to be built in SA
Posted on : Wednesday , 3rd September 2014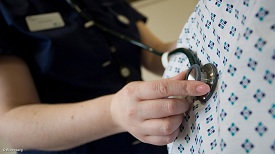 About 43 new state-of-the-art hospitals are expected to be built across South Africa within the next five years.
Over and above, 216 new clinics will also be built by the national Department of Health, and 816 old hospitals across the country will be renovated, said Health Minister Dr Aaron Motsoaledi.Minister Motsoaledi was speaking to media after the official opening of the R1-billion Dr Harry Surtie Hospital in Upington, on Tuesday.
The Hospital was officially opened by President Jacob Zuma, as part of government's infrastructure roll-out programme.
Minister Motsoaledi said these developments will be done to accomplish the National Health Insurance (NHI) mission, which will ensure that everyone has access to appropriate, efficient and quality health services.
He said his department deliberately built state-of-the-art hospitals in small towns and rural areas to provide quality services to the public.
"… quite often when you ask doctors why they don't go to the rural areas, they will tell you that there is no equipment. Some will tell you that they want to advance their careers and it won't be possible in rural area," said Motsoaledi.
He said the equipment found in the recently built hospitals was of a world class standard, and it was advanced in technology.
He added that SA has talented medical practitioners, health professionals and clinical technologists.
"One of the state-of-the-art equipment in Dr Harry Surtie Hospital is the Lodox Machine (X-ray scanner), a South African product… which was invented in SA," said the Minister.
Motsoaledi added that by building these hospitals in rural communities, more doctors will be attracted to serve the public regardless of their residential areas.
"It will also be important to get some medical students to come and help people in rural areas," said Mostoaledi.
A community member, who attended the opening ceremony, Mponeng Mabe, 62, of Pabalelo location, said she was delighted to have the hospital built closer to her community.
Before the new hospital opened, Mabe used to take two taxis to get health services from the old Gordonia hospital.
"Whenever I got transferred there [Gordonia] by the clinic, I got so frustrated by the thought of sitting for almost an hour in a taxi not feeling well, plus I would have to queue again when I get to the hospital. This is great for us, I am really happy," said Mabe, who lives almost eight kilometres away from the new 327-bed hospital.
Another resident who visited a neighbour admitted at the hospital, Sonia Lephepha, also from Pabalelo, said it has been her long term wish to have a hospital closer to her because she was aging.
"My husband and I are aging, and travelling to the hospital is already a problem. So I am happy because I just take one taxi from my house to this new hospital," said the 63-year-old Lephepha.
Lephepha, who has been living at Pabalelo for more than 30 years, said she was aware that the new hospital, located in Progress, will also create jobs for youth in Upington and neighbouring areas.
"Maybe my children or grandchildren will work at the hospital," she said.
Zuma said building decent health facilities is designed to move South Africa a step forward.
"Together we will move our country forward to security and comfort for all.
"I committed our Government during the State of the Nation Address this year that the target for this administration is to ensure that at least 4.6-million people are enrolled in the anti-retroviral programme," said the President.
Zuma was pleased to realise that the construction of Dr Harry Surtie hospital did not only offer health services, but created more than 200 direct and indirect jobs to residents of Upington and surrounding Areas.
Public Works MEC David Rooi said women contractors also participated in building the hospital.
"We want to make sure that we develop women contractors," MEC Rooi said.
The new hospital serves the western half of the Northern Cape Province, as Upington alone has a population of about 70 000 people.
Source : Engineering news