M a r k e t N e w s
Investor eyes Kisumu with Sh48m villas
Posted on : Monday , 1st September 2014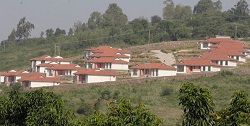 A Swedish investor wants to test Kisumu's real estate appetite with Sh48-million villas. Fred Andersson, owner of Coromandele Investment Ltd is putting up 30 villas priced at Sh38.5million and Sh48.5million at Riat Hills, 3km from Kisumu International Airport.He said each unit would comprise four bedrooms all ensuite, walk-in in closet, expansive roof terrace with external Jacuzzi, two-room servant quarter and free flowing open plan among the common areas. There will also be a club house with a swimming pool.
"The villa will be big and of top quality with large space and expansive terrace. The small villa is 4,600 sq. ft while the largest will be 7,000 sq. ft," said the Coromandele Investment chief executive. The villas at Doga sub-location will each occupy a quarter an acre.
The Sh1.3 billion property will be developed on eight and-a- half acre piece of land. The TMS Group is the project consultant while the design was done by Coromandele Design based in Stockholm, Sweden and Nairobi.
"I don't know the nature of buyers. But anyone can buy. We also are seeing inquiries from Kenyans in diaspora who want to buy and rent out the villas or use it while on holiday," he said.
Home Afrika Ltd, Kenya's only listed real estate firm is developing a mixed use project in the same location. The Lakeview Heights in Riat Hills will sit on 72-acre of land. "We know that Kisumu has a bit to go with security and roads. But we also know that Home Afrika bought land in Kisumu. This is good for me," he said.
Home Afrika is selling a quarter an acre piece of land at Sh2.5million. High demand for land in the area has resulted in a rise in property value. Lake Estate Agency Ltd director Dev Karia said: "Three years ago an acre of land at Riat Hill was Sh1.5million – Sh2.5million. At present the price is Sh3.5million – Sh4.5million."
Mr Andersson said already 10 purchases had been made for the villas that are being sold offline. Construction for the 10 houses will be complete within year.
Kisumu is among major towns that have attracted investors in real estate. Other towns where demand for property is high are Nakuru, Naivasha, Nanyuki and Kiambu where new developments are coming up or have been completed.
Longonot Gate Development Ltd is putting up, 2,400-acre holiday resort in Naivasha, while in Kiambu there is the Two Rivers, a multimillion project by listed firm Centum and several gated communities.
READ: Kenya's real estate sector up in global transparency listing
Availability of land in counties and reasonable cost compared to Nairobi, realtors say, is attracting investors. Property developers expect to create a demand for homes given that real estate sector is in early stages of growth in the towns.
"We first want to see how this will go then, we can figure out where else to invest," said Mr Andersson.
The Kisumu county government has promised to build a road in the area to ease access. The Swedish Embassy in Kenya unveiled the project last week.
Source : Business Daily