M a r k e t N e w s
Arab Contractors to implement $27m new road projects in Egypt
Posted on : Monday , 25th August 2014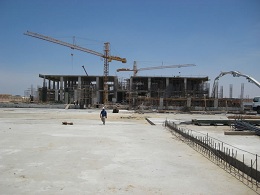 Arab Contractors Company (AC), a leading construction firm has been awarded a tender worth $27M to implement construction of 400km roads stretch in Egypt.
In a statement sent to the media by Arab Contractors Company (AC) and signed by the board of Directors Eng. Mohsen Salah, the company is still negotiating to obtain an extra 200 km so that the targeted length of implementing the projects for the first phase will be up to 600 Km.
The statement added that the company is scheduled to finalize the works of implementing 400 km within one year.
Arab Contractors, which is still in talks with Egyptian General Petroleum Corporation (EGPC) to provide servings of raw materials of bitumen required for road projects, has actually started implementing the projects awarded just a week ago.
However, the awarding of the tender involving construction of 400km roads stretch in Egypt is among the works of phase I of new project that aims at establishing 1300 Km with total spend exceeding EGP17 billion.
The Arab Contractors (AC) is one of the leading construction companies in the Middle East and Africa. Apart from construction of 400km roads stretch in Egypt, the entity has already been given a nod by the Algeria government to implement three major industrial zones.
According to the Chief Executive of the Arab Contractors Ashraf Rateb, the company is implementing utilities and water utilities alongside other infrastructure works for the three Algerian industrial zones at total cost of US$180 million.
Source : constructionreviewonline.com