M a r k e t N e w s
Nigeria: OSOPADEC Constructs N300 Million Pedestrian Bridge in Riverine Area
Posted on : Thursday , 21st August 2014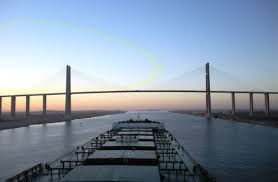 Akure — Concerned by the difficulties being encountered by the residents of the riverine communities in accessing their homes, the Ondo State Oil Producing Areas Development Commission (OSOPADEC) has launched the construction of innovational footbridges worth N300 million in its mandate areas.
The bridges, which would be constructed in the OSOPADEC mandate areas of Ilaje and Ese-Odo Local Government Areas, would cover a distance of over 10 kilometres in 157 communities.
The construction of the bridges was launched at the Ayetoro Community Hall at a programme attended by different stakeholders comprising OSOPADEC officials, traditional rulers from some of the communities, youth and women groups, representatives and government officials. Speaking on the occasion, the Chairman of OSOPADEC, Mr. Wole Johnson Ogunyemi said the project was a demonstration of the government's commitment to improve the lives of the people in the riverine areas.
Ogunyemi said the project was just the beginning of good things that would come to the area, adding that the second phase of the pedestrian bridges would soon start and declaring that the first phase would be completed within 12 weeks.
He said the commission was working in tandem with the vision of the State Governor, Dr. Olusegun Mimiko, to develop rural areas, adding that the footbridges would last for a minimum of 10 years unlike the previous ones.
The pedestrian bridge, according to the design, would be constructed with galvanised steel iron on which iron wood planks would be fitted.
The OSOPADEC chairman urged the people of the areas, particularly those in the communities where projects are sited, to cooperate with the contractors and OSOPADEC on the projects so that the projects can be completed on schedule and which would pave way for other developmental projects in the area.
He therefore urged the people to see the projects as their own because the gesture of government affects the living of the people directly.
Also speaking, a traditional ruler, the Odode of Gbegunrin, Oba Phillip Kalejaye, commended OSOPADEC and Ondo State Government for various developmental projects that actually touched the lives of the people.
Equally, representatives of some beneficiary communities commended the state government for the project and urged the people to cooperate with those that would execute the project so that more can still come to the areas.
Source : allafrica.com