M a r k e t N e w s
Kenya: Railway Project to Employ 30,000 Kenyans
Posted on : Tuesday , 19th August 2014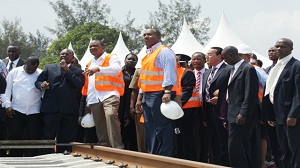 Nairobi — More than 2,400 Kenyans have already been hired for the construction of the Standard Gauge Railway (SGR).
Assistant President of China Communications and Construction Company Wen Gang says they also intend to sub-contract about 40 percent of the project to local companies.
At a meeting with President Uhuru Kenyatta at State House Nairobi on Monday, Wen said at its peak, the SGR project will employ more than 30,000 Kenyans directly. He added that so far 87 construction teams from China have arrived with over 2,000 pieces of equipment to ensure the project takes off by September.
"We will continue recruiting local people to impart skills and also ensure transfer of technology, we will also continue engaging local suppliers especially from county governments to maximize on the locals and minimize on the Chinese experts," he said.
He said his company will impart skills and transfer technology to the locals so as to help the country in the manufacture of components for the SGR project locally.
The President commended the Chinese company for working with county governments in implementing the SGR. He said the government is keen to see that SGR is completed on time, saying it will also anchor the establishment of the steel industry in Kenya.
President Kenyatta said the Jubilee Government has attached great importance to improvement of infrastructure in its effort to grow the economy.
He says this partnership between local and international companies will help boost the steel manufacturing industry in the country.
"We will always welcome projects that accelerate economic growth to create jobs for young Kenyans," President Kenyatta said.
He said participation of local companies should be embraced in all projects implemented in the country by international companies.
Also in attendance were Cabinet Secretaries Eng. Michael Kamau, Henry Rotich, Joseph Ole Lenku, Prof. Judy Wakhungu and Charity Ngilu.
Source : allafrica.com