M a r k e t N e w s
Dangote Cement set to expand production plants
Posted on : Monday , 18th August 2014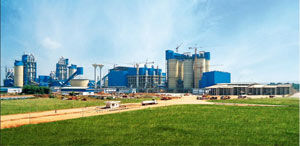 Dangote Cement Plc plans to expand its cement production plants to Africa, Middle East and Latin American countries. The company hopes that it will, through the planned investment, rank among the top ten global cement manufacturers and also help Nigeria to earn foreign exchange.
According to the Deputy General Manager of Production at the Ibese Plant, Sunday Adondua, Dangote Cement is currently operating in fourteen African countries. He added that as Dangote consolidated their hold in Africa markets, they intend to go beyond the borders, specifically targeting the Middle East and Latin America.
He further elaborated that apart from the cement plants in South Africa, Cameroun, Zambia, Kenya, Senegal, Tanzania and Ethiopia, Dangote is having arrangements of setting up a plant in Guinea Bissau, Mauritania, and undertaking projects in Gabon. He added that Dangote's Ibese plant's new production lines, 3 and 4 will be commissioned by the end of this year and hopefully to double the factories production capacity to 12million metric tons per annum from the current six million metric tons. However, the existing line I and 2 started in August 2012.
Furthermore, line 3 is ready for cement production and dispatch whereas line 4 is at 96% completion stage. The company expects the plant to have produced and dispatched 12million tonnes of cement per year by the end of this year. It was noted that, the combined production capacity of the three plants; Ibese, Obajana and Gboko will be more than 29.2million metric tons of cement annually.
Source : www.constructionreviewonline.com