M a r k e t N e w s
Prime Minister Abiy Ahmed puts Ethiopia on the trade map as a top investment destination
Posted on : Monday , 21st October 2019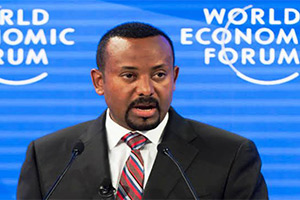 Mr. Abiy Ahmed Ali, Ethiopia's young reformist Prime Minister, "for his efforts to achieve peace and international cooperation, and in particular for his decisive initiative to resolve the border conflict with neighboring Eritrea." has been this year's recipient of the Nobel Peace Prize.
Prime Minister Abiy Ahmed is responsible for initiating important reforms in Ethiopia giving many citizens a hope for a better life and a brighter future. As Prime Minister in the first 100 days of taking office Mr. Abiy lifted the state of emergency in Ethiopia, granted thousands of political prisoners amnesty, removed censorship of media and free press, brought back opposition parties, dismissed corrupt military and civilian leaders , and significantly raised the influence of women in Ethiopian political as well as community life. Ethiopia is an important country being Africa's second most populous country and as East Africa's largest economy.
Mr Abiy's government started from the idea of an economically sound strategy. Ethiopia, since his tenure started has sustained a high investment rate, currently at 38 per cent of GDP. The focus has been predominantly in infrastructure for energy and connectivity, which the country holds to the highest degree of importance.
Spearheading the long overdue hydropower programme to completion has enabled major Ethiopian cities to have abundant and affordable electricity while allowing the surplus to be exported to its power-scarce neighbors. Propelling an efficient national airline Ethiopian Airlines, with a fleet of modern aircraft, has turned Ethiopia into a major hub for the entire continent. The country also provides cheap hold-space supporting a cluster of light manufacturing industries to develop. Connectivity by rail to ports has created trade corridors along which new cities are being built and existing ones being developed thereby providing long term jobs in livable environments. It is well known now that rapid urbanization is an inevitable occurrence in Africa and the UN estimates city populations to triple by 2050, leading to more demand for goods and services.
The government's infrastructure programme is nearing completion and for the future Mr Abiy has launched a new phase named Homegrown Economic Reform Agenda, which seeks to provide fuel to the plethora of opportunities that are expected to gradually open up as interdependent businesses start growing. The plan aims to bring together a focus on business by enabling enterprises to function more easily with a strong push for the macroeconomic agenda of market reforms boosting foreign exchange and finance.
Today, Ethiopia has reached a pivotal moment. The economic and trade reforms brought about by Mr. Abiy have become an object of fascination around the continent. Economists following the developments closely expect that this could ignite an economic change through emulation which can be considered equivalent to that of South Korea's influence on Asia in the 1970s.
Source : bizmart