M a r k e t N e w s
Movenpick Advance Growth Agenda in East Africa
Posted on : Friday , 13th October 2017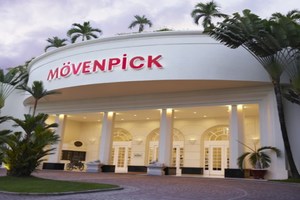 Movenpick Hotels and Resorts have begun with the construction of an upscale 160-key Hotel in Abidjan.
The foundation was laid on October 7th with the hotel set to open in 2020. This new development will further the Swiss hospitality firm's agenda in the Sub-Saharan region.
This will be the company's first property in Côte d'Ivoire with four other active projects upcoming in the region. The others being Movenpick Hotel Addis Ababa in Ethiopia with an opening date set in 2019, Movenpick Hotel & Residences Nairobi in Kenya, which will open in 2018 and Movenpick Hotel & Conference Centre Abuja in Nigeria also set for completion in 2020. Mövenpick Hotels & Resorts also currently operate a 260-key property in Ghana called Mövenpick Ambassador Hotel Accra.
Chief Development Officer of Mövenpick Hotels & Resorts, Andrew Langdon described this new project as another step closer to what the company aims to achieve in Sub-Saharan Africa.
"Opening a modern lifestyle hotel in Côte d'Ivoire's banking and commercial center is a strategic move that not only capitalizes on Abidjan's growing prominence as a major business hub but reestablishes Mövenpick Hotels & Resorts' presence in West Africa. This is crucial to our development strategy as we actively seek opportunities to grow and become a leading hospitality company in the region."
The property will include an all-day dining restaurant; a lounge/bar; an Executive Club Lounge; a state-of-the-art fitness center and contemporary meeting space, on completion.
"The hotel will be well placed to facilitate trade missions, government-related business and general commercial trade," said Langdon.
Mövenpick Hotel Abidjan's ownership is a joint venture between Société Abidjanese de Promotion Industrielles et Immobilières (SAPRIM), a private company that owns the office complex and mall adjacent to the property, and renowned construction firm Bouygues Batiment International.
Source : Business News Africa